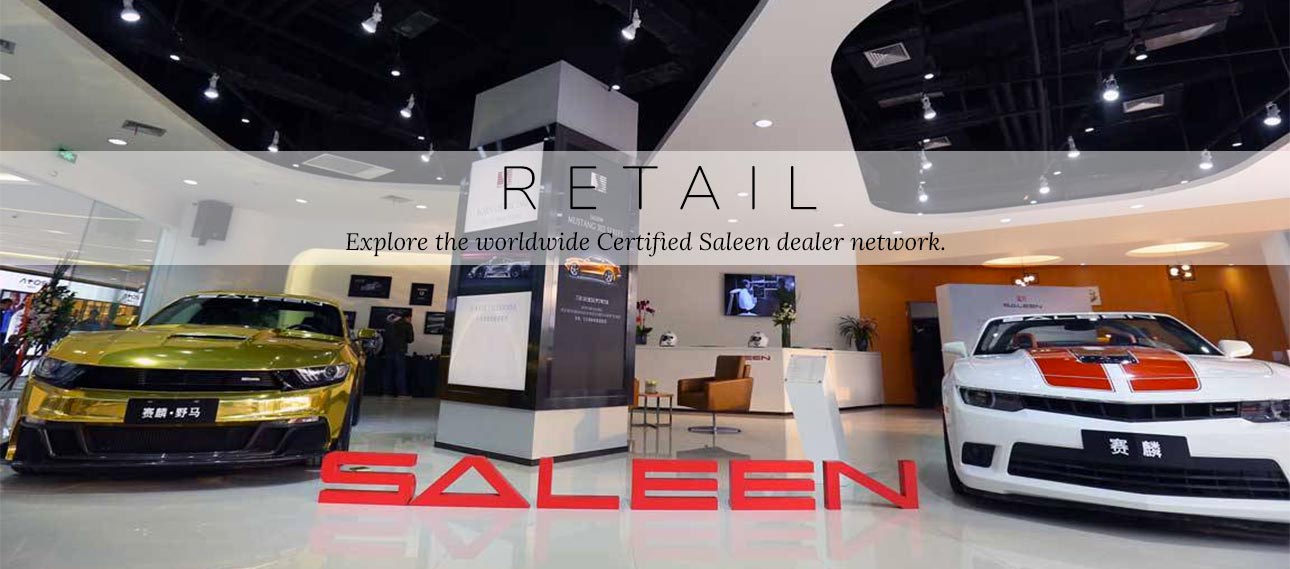 DEALER COMMUNITY
To deliver the Saleen Experience, Saleen partners with Saleen Certified Ford, Chevrolet, and Dodge Dealers throughout North America, Europe and Asia.
SERVICE PARTNERS
Saleen Certified Dealers and Saleen SpeedLab Authorized Installers and Distributors have all the capabilities to service and support any needs a Saleen vehicle may require.
ENTHUSIAST NETWORK
A worldwide legion of Saleen enthusiasts are connected by the brand; sharing a common reverence for the product, a common passion for performance and a common desire to share experiences with like-minded people. Click below to explore the Saleen owner groups.
PERSONAL SERVICE
Knowledgeable Saleen personnel are ready to talk about the innovation, technology and performance of all Saleen models, aftermarket parts and accessories. The Saleen Store can facilitate vehicle purchasing, financing, administering trade-in assessments, as well as providing buyers with genuine Saleen SpeedLab aftermarket parts sales and installation. Guests considering the purchase of a new Saleen vehicle will find it easy to do so with The Saleen Store's zip code based referral service. This seamless service originates at The Saleen Store and concludes at the guest's nearest Saleen Certified Dealership. Saleen Experience test drives are also available for any guest interested in joining the Saleen owners' community.

Guests can experience the exhilaration of driving a Saleen S7 when they use one of the two state-of-the-art race simulators. This remarkable simulation gives customers a lot of feedback, allowing them to feel every bump of the course and the sensation of going up and down the hills of their favorite race tracks. Each simulator is programmed to the same specs as a real Saleen S7R race car, from the tire pressure to the percent of slip between the left and right tires. If that is not enough, The Saleen Store has the Saleen N2O Bar. Here, the menu items range from ice cream, water, soda, Red Bull and oxygen, as well as nitrous oxide and hydrogen for guest's vehicles. The store encompasses a full-range of high-octane ambience for everyone.
Saleen's complete product line including apparel, hats, leather jackets, driving shoes, watches, pens and other fine gifts, all celebrate Saleen heritage, vehicles and the Saleen commitment to excellence – the same attributes standard in every Saleen vehicle.